Osteria Nonno Poldo

February 2007

Baragazza 309
40035
Roncobilaccio / Castiglione dei Pepoli (BO)
Tel. 0534-898560

Closed on Mondays


This one is a keeper! Write down the address and keep it in your wallet, because if you happen to be around, you don't wanna miss the chance of eating here!

Home-cooking at its best…meat dishes are probably the specialty of the house, but also the pasta is great.

Personally, I had mystic visions with their wild boar stew, coupled with fantastic spinach sauteed with garlic. Everything was enhanced by the very good red wine of the house! I wish I could have tasted also some of their pies, but I just was too full (helpings are very generous, there!). All for a staggering 20 Euros.

Trattoria Da Memo

December 2006

Via Adige 5
35017 Piombino Dese (PD)
Tel. 049-9365749


One of the best places you can find in Veneto if you want to eat delicious food and keep your wallet healthy at the same time! Every dish here is just perfect! And almost everything here is home-made, including the pasta!

The specialty of the house is the mule meat, which is amazingly tasteful and soft, it melts in your mouth as you chew…great in stews and maybe even greater in tagliatelle al ragù (home-made pasta with home-grown mule meat…heaven for your mouth!!!).

Also sweets and pies are something you cannot die before having tried them! I personally worship their (home-made, naturally) tiramisù…the first time I ate it I found myself reciting Homelies in latin!!! …just too good!!!

The wine of the house is a great cabernet, one of the best red wines you can drink, and it goes along just perfectly with the mulo meat!

Prices generally range from very honest to even cheap…the first time I got there with some friends of mine I took primo, secondo, dolce, caffè e amaro (not to mention the flowing of cabernet) and I spent just 17 Euros!

Oh, and be aware that helpings are very generous there, so if you want do to like I did the first time I got there, you know that then you'll leave the Trattoria literally bent… stomach was about to explode, but I felt just great!!!

5 stars and a shooting star!!!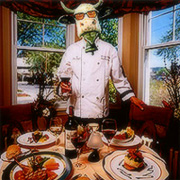 Erik Ursich is a talented multi-instrumentalist with a passion for old syths and analog sounds. He is the founder of Vacca Stracca Recordings, an independent label based in the countryside of Venice.

Erik often tours for his solo projects or with his band Grimoon. Being a great friend of mammasantissima, he gladly accepted to share with us his reviews on small countryside restaurants and cool pubs, he discovers during his tours.