Noble Rot Wines - 23 November 2006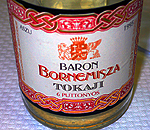 Interesting night at Onav dedicated to Noble Rot wines, or wines made from grapes which have been attacked by Botritis cinerea.

Considering the approaching of the Christmas festivities it is not unusual for Onav to have organised a sampling of wines dedicated to fois gras, extreme cheeses and meditation.

First sample of the night was an absolutely superb Antinori Muffato della Sala 2004 (Euro 38). Scented with aromas of citrus fruits this fresh wine was a superb contender for wine of the night. We quickly followed it with another top wine: Coteaux du Layon 2003 from Chateau Pierre Bise (Euro 25). Quite unknown in Milan this wine certainly is an interesting alternative to Sauternes.

We followed our second wine with Heiss's Beernauslese 2001 (Euro30). Incredible austrian wine with scents of plum and a super bouquet. Really excellent product. The following wine was possibly the one that impressed us least. Chateau du Cros' Loupiac 2000 (Euro 32) surely possessed a distinct saffron taste but the overall impression was not of a very balanced wine.

What was supposed to be the king of the night Clos Dady's Sauternes 2000 (Euro 50) also was sort of a disappointment. Surely a balanced Sauternes but nothing too special. Petreto's Pourriture Noble 1999 (Euro 32) also was an interesting number. A tuscan wine scented of burnt caramel and distinct taste. But not everyone's liking and some of us had their doubts about this one. Finally the great suprise for our team of realtively new wine tasters: Baron Bornemisza's Tokaji 6 Puttonyos 1995. What can we say about this wine. A handful surprises in a bottle. The scent is distinctly of caramelized pumpink. Aromas of honey and caramel lead to the impression the wine is going to be treackly sweet.

The taste though is totally different. Great acidity which balances amazingly well the sweet aromas of the wine. A complete suprise bound to force people to either like it or hate it. Well, we simply loved it. This Hungarian delight is our pick of the night. All the wines created an amazing experience though. Congratulations to ONAV for a night trurly to remember.

1.
Antinori
Muffato della Sala 2004
2.
Chateau Pierre Bise
Coteaux du Layon 2003
3.
Heiss
Beerenauslese 2001
4.
Chateau du Cros
Loupiac 2000
5.
Clos Dady
Sauternes 2000
6.
Petreto
Pourriture Noble 1999
7.
Baron Bornemisza
Tokaji 6 Puttonyos 1995